FAQ - Frequently asked questions about online booking
Online booking
1. How can I book parking?
You can book your car parking directly at www.parken.munich-airport.de:
1. Select the start and end of your parking
2. Choose your parking offer
3. Enter your personal data
4. Submit your booking
5. An e-mail with QR code will be sent to you
2. How does the QR code function?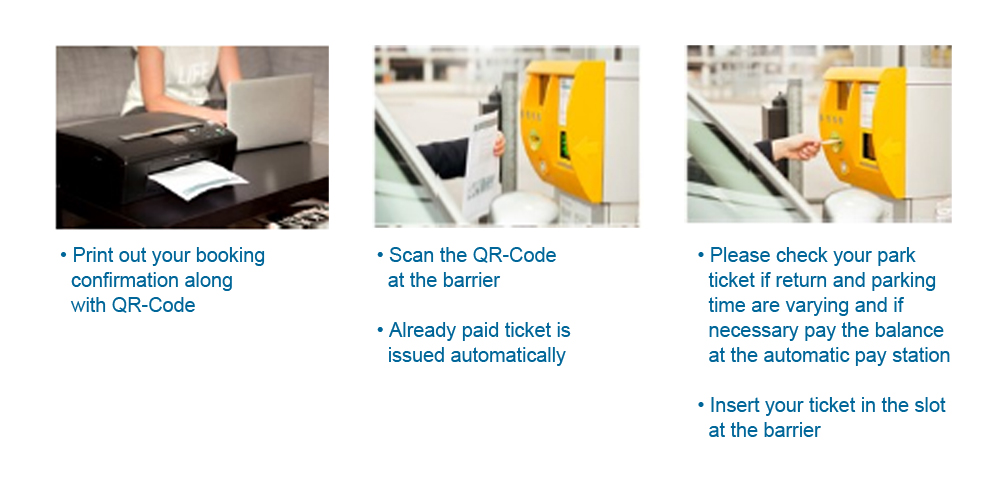 3. I have not received a booking confirmation
Please contact our customer services center with your booking ID and your full name.
4. How far in advance can I book a parking space?
You can book parking up to 1 hour before arrival and up to 6 months in advance.
5. For how long is my reservation valid?
Your parking is valid from the entry date and time booked until the departure date and time booked.
6. Where can I see my booking?
Log into the website at www.parken.munich-airport.de
and click on 'Manage my Booking'. Your current booking will be displayed.
7. I have forgotten my password. Where can I request a new one?
You can request a new password at www.parken.munich-airport.de
. Click on the 'My Account' link in the menu.
Click on 'Forgot Password' and enter your email address in the box.
You will receive an email with a link to reset your password.
8. I have lost my booking reference. Where can I find this again?
You can find your booking reference by going to www.parken.munich-airport.de
Enter your e-mail address and click on 'Send Current Bookings'. This will re-send you confirmation to your e-mail address.
9. How do I cancel my parking booking?
You can cancel your parking booking by clicking on www.parken.munich-airport.de
and selecting 'Manage my Booking'.
Your booking may be cancelled for free up to 24 hours prior to arrival.
Within 24 hours of arrival, cancellation will incur a 15 Euro administration fee.
You receive a confirmation mail after your successful cancellation.
10. If I do not use my parking space, do I still need to pay for parking?
If you do not use your parking space and fail to cancel in time (see question 9), the value of the booking will not be refunded.
11. Can I change my selected parking after booking?
No, you must first cancel your original booking (see question 9) before re-booking in your desired car park.
12. I did not receive an email. What do I do now?
Check to see whether your email has been placed in your Spam folder.
You can also click on parken.munich-airport.de/en/ and select 'Manage my Booking' to re-send the confirmation.
13. Where can I find a accessible parking space?
Short-term parking at the terminals: As a holder of the EU blue valid "EU disabled people passport", you can park your vehicle in the detention zones at Terminal 1, Departure / Arrival AD and Arrival E as well as at Terminal 2 free of charge for a limited period of five hours You a discount of 50 percent on the current available rate. At the entrance the registration via the call button at the entrance barrier is required. The ID card can be checked by an employee of the airport.Holders of identity cards bearing the words aG, BI, H or comparable values from other EU Countries may obtain a 50% discount off the daily rate by visiting the parking office.
Barrier-free parking: All of Munich Airport's parking facilities have barrier-free spaces available. Any holder of a disabled identity card with code "aG", "BI" or "H" you will receive a 50 percent on the following parking areas: Terminal parking: P1- P4, P5 - P8, P20, P26 and P35 Remote parking: P41 North/South, P50 - P52 and P80. If you park less then 5 hours, you can park for free in the entire designated parking areas. The discount can not guaranteed with a online booking. If you wish, you can ask a staff member to collect your parking charges from you by pressing the call button on any payment machine.
Please press the call button on one of the pay machines.
14. Do I have to book a parking space in advance?
A booking is not required.
Please note that significant reductions from the normal parking rates are available on some car parks by booking in advance.
15. How often can I enter and exit the car park for each booking?
You can enter and exit the car park only once for each booking.
16. What is a Promotion Code?
A Promotion Code is awarded in conjunction with a promotional campaign.
You should enter the Promotion Code into the 'Promo Code' field when making a booking.
Available promotional offers are displayed.
Payment
17. What should I do if I am charged incorrectly?
You should send your booking reference to info.parken@munich-airport.de.
We will check your booking as soon as possible.
18. When will the payment amount be debited?
The parking fee will be debited immediately from your credit card account.
19. Do I receive a receipt for reserving my parking?
The Booking Confirmation serves as your receipt.
Transfer connections and times
20. When do buses travel to/from Car Park P41 North/South?
Bus timetables may be found at connecting bus stops.
The bus line 635 runs every 20 minutes between P41 north / south and the terminals. From 00:36 until 3:56 there is no bus transfer between the parking area P41 north / south and the terminals.
The transfer is free upon presentation of the parking ticket for you and all fellow travelers. The parking ticket is automatically issued at the entrance to the parking area.
Please keep it well.
21. How long does it take Bus 635 to travel to to terminal area?
Travel time is 8 minutes.
Arrival and Departure
22. I arrive late to the car park due to congestion. Can I enter the booked car park anyway?
Yes, you can still enter the booked car park.
23. My return flight is delayed. Can I exit the car park anyway?
Yes, you can still leave the booked car park.
Please be aware that the parking charge can change depending on the length of the delay.
24. I have lost my ticket. How do I get a new ticket?
Please contact the employees of the on-site parking office.
You will receive a replacement ticket.
25. The light over my booked car park is red. Can I still enter?
Your parking is reserved in the parking area you have booked even if the traffic light is red.
Electric Vehicles
26. Where can I park my electric car?
Owners of electric cars can park in Car Park P20.
On level 5 (departure area) there are twelve pitches available.